Here is a tutorial on posting photos on Ausphotography.
Ausphotography has size limitations on both KB and Pixel size of any files uploaded direct to the site
* Photos must be under 400KB (this being 409,600 bytes) and under 1200 pixels on the longest side (as at January 2016, and subject to change).
* During upload if a photo does not meet the above, the upload will reject, giving a reason why.
* To resize your photos, use your photo editing software. There is a Photoshop tutorial
HERE
How to start your own thread to place your photos on Ausphotography
To create a new thread, go to the forum you wish to start your thread in. Use the
FORUM
menu across the top of the site to view all available forums, but mostly photos will be uploaded to the
Member Photos Forums
When you get to the relevant forum, at the top left above the existing threads list is a 'New Thread' button. Click that to start your own thread
NOTE: The software has been updated since this tutorial was made. Whilst the details are relevant, the screens have cosmetically changed. The screen shot below this statement shows the current screen shot as at 23/12/2012)
The screen shots below are from an older version of the site software, but the basic instructions are still relevant.
The next screen you see is the New Thread creation screen, and from here you access all the necessary screen to complete the creation of your new thread.
All red boxes are designed to highlight what you need to click/use
* Inside the top box you type your thread title
* The small icon noted is the attachment icon
* The big white box is where you type the body text for your thread, and also where your attached photos will appear (see below)
* Tags, allow you to 'tag' your thread with relevant keywords.
How you can help keep Ausphotography site running costs down
Ausphotography uses over 10GB of bandwidth a month. As this usage has to be paid for, we prefer the 'linking' method for posting photos on Ausphotography. Linked photos do not add to the site bandwidth usage at all, thus help keep site running costs down.
Linking means your photo is hosted elsewhere on the internet, and you then place an image link into your thread/post, leaving the original photo where it is, and linking to it, from within Ausphotography.
How to LINK your photos into Ausphotography
You need to go to the site where your photo is hosted and get the link for the photo. Valid links must end in .JPG. The easiest way to get a link, is to right click the photo and choose, image information/properties (it varies depending on browser) and the page that comes up will contain the image link code.
An image link code will look like this http://i248.photobucket.com/albums/gg175/snoopytas/tutorials/new-thread-screen.jpg. You need to COPY this code
You then use the attach icon in the Ausphotography post/thread screen to 'link' the photo into your thread.
* Click the image linking icon, noted below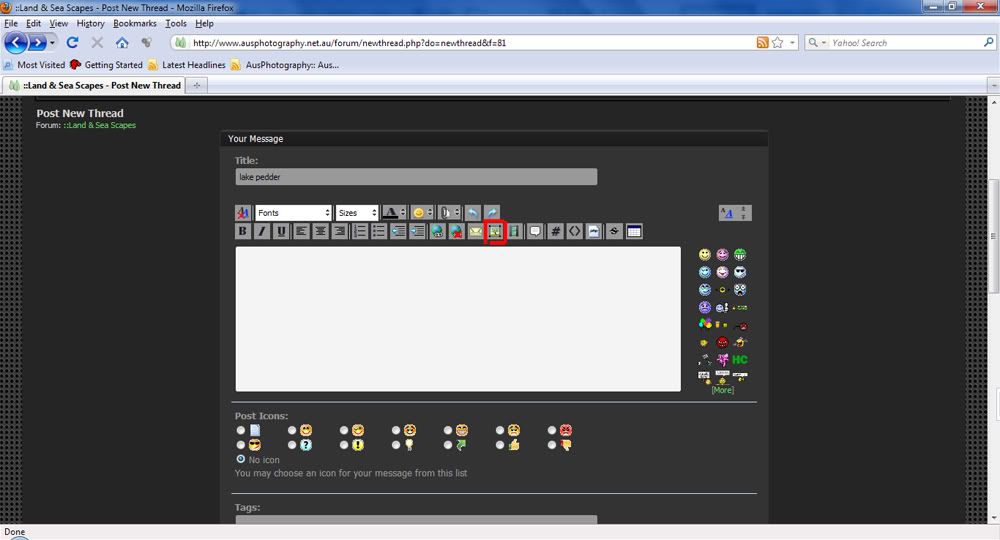 * A pop-up screen asks you for a link
* Paste your link into the pop-up box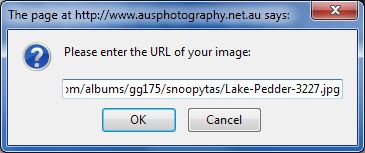 *Click OK and your link will be embedded into your post to successfully display your photo, when you submit your thread
You can move the code around, put text above or below it. Highlight it and choose centre (from the icons above the text box, to centre the photo on screen for viewers etc.
When you are done, you can preview, or submit your thread.
Attaching photos by uploading them to Ausphotography
This method uploads your photo so that it is stored on the Ausphotography server. Photos uploaded to Ausphotography take up server space, and every time a member views your thread, bandwidth is used. Members are welcome to use this method, but it does increase the cost of providing Ausphotography. So please consider the linking method if possible.
To attach photos by uploading them to Ausphotography you start off with the same screen as you do for linking. However, this time round you click the attach icon
* The attach icon is the paper-clip icon, highlighted by the small red box in this screen-shot
* Once you click the paper-clip icon, you are presented with an upload screen
* To add your photos, click the Add Files button, and you are presented with a screen to find the photos on your computer and "open" then to upload them to Ausphotography
* Once uploaded they will appear in the lower part of the screen
* You can now use the tick box to select or deselect each photo. If you click DONE, the photos are inserted into your thread/post.
*However, if you click the "Insert Inline" option, you gain the ability to control how your photos are laid out in your thread.
*When you insert inline, the photos will appear as "attachments" each one can be moved around your white message posting screen, placing spaces between them. text between them, etc.
To complete your thread/post - Click SUBMIT
Notes:
Some photo hosting sites require specific linking methods. Please check with your photo hosting site when linking into Ausphotography, that you are abiding by their linking methodologies. Some sites also include the Forum/BB code as part of their service and you only need to copy-paste the code into the white text box, and not using the linking icon.
You can also get a 'simplified' upload screen, by changing your Ausphotography account settings:
* Click 'Settings' (top right)
* Scroll down on left to 'My Settings'
* Click 'General Settings'
* Scroll down
* Click 'Enhanced Attachment Uploading off'
* Click 'Save Changes'
UPDATE (AUGUST 2011) FOR NEW EDITOR (AFTER SITE SOFTWARE UPGRADE)
With the recent site software update, the above details have changed somewhat, here is some newer information to assist you in attaching photos. This update is due to the installation of the new WYSIWYG editing interface
The image icon
When clicked, opens up a pop-up window (choose "From Computer" or "From URL" depending on where your photo is.

Type/paste the link to your photo into the URL box (or find it on your computer):
And once done, your photo will appear on your text box if you have the advanced editor turned on. Otherwise you will see the ATTACH code (see above)